LIFEBOAT
Navigating Unexpected Career Change and Disruption
In Lifeboat, Maggie Craddock uses the stories of the survivors of the Titanic as a metaphor for hardworking professionals today facing uncertainty. They are swimming in waters jarred by sudden waves of downsizing, management shakeups, company mergers, dried-up funding, scandals, and probably a shark or two. The experiences of Titanic survivors, Craddock shows, offer lessons for a transformative workplace approach, one that recognizes that "every man for himself" does not work long-term.
Craddock illustrates how the skills people need to survive and thrive are those that help them transition from the self-help mindset to an us-help way of looking at the world. Lifeboat is organized as a series of key questions to ask when facing a difficult situation of extreme change or when things just don't feel right at work. The questions help readers articulate their authentic priorities, assess the group energy in their workplace, and identify the type of environment that would enable them to actualize their true potential. Most people are eager to do good work, collaborate with others, and participate in a professional culture that stands for something meaningful. Lifeboat helps them realize that goal, even in the midst of turbulent times.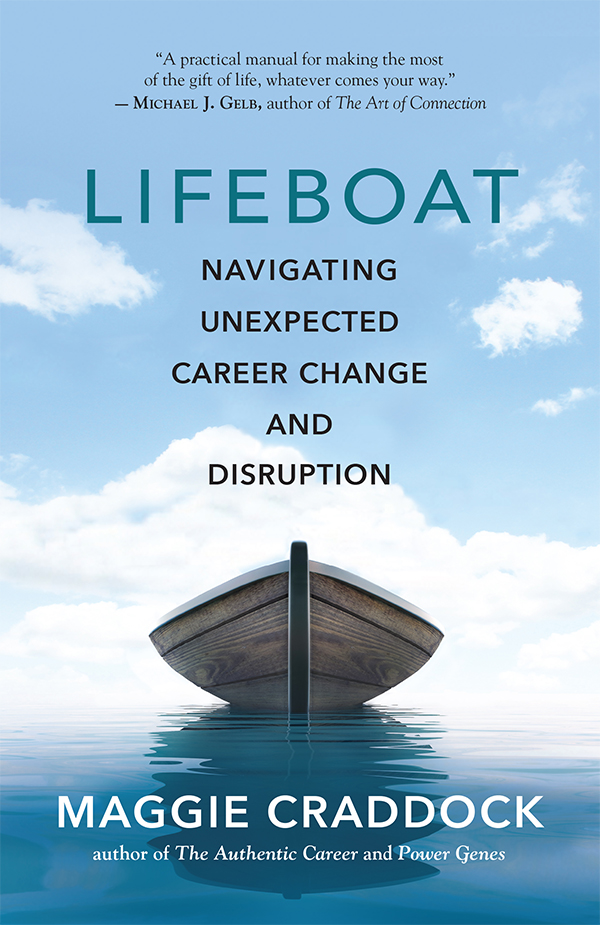 Preorder Today for Limited-Time Bonus Offers!
Lifeboat officially releases on August 4th. Preorder today and receive these limited-time bonus offers once the book is available.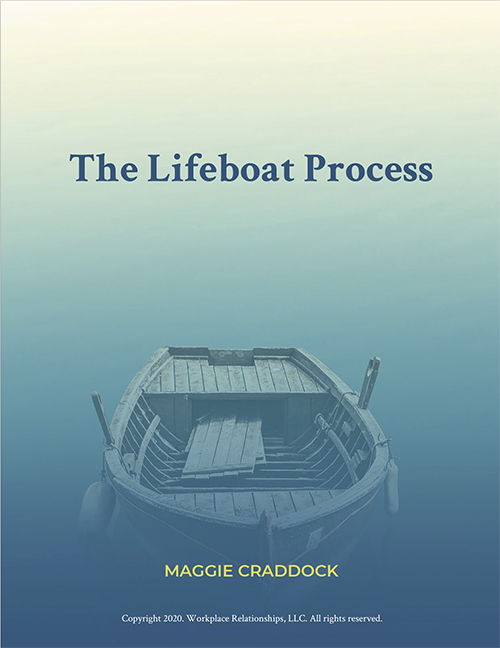 The Lifeboat Process
A digital companion piece that outlines the 8 Lifeboat questions.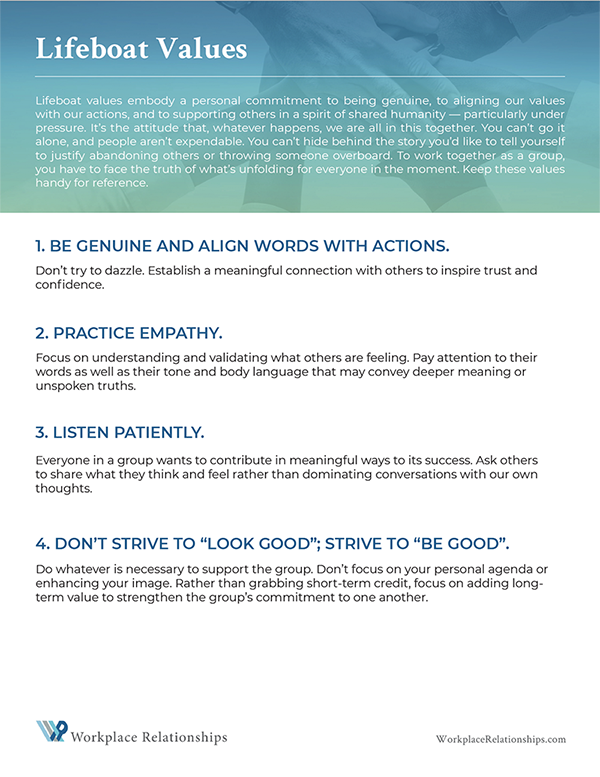 Lifeboat Values
A printable piece to keep visible in times of need.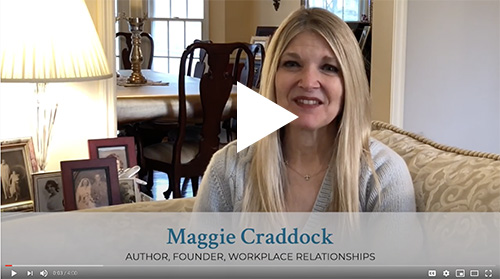 The Power of Pause
An instructional video, led by me, to boost your emotional agility.
How to Claim Your Bonuses
Preorder Lifeboat from any of the retailers below.
Include a screenshot of your receipt. Don't know how to take a screenshot? Click here. 
Check your inbox for confirmation and access to the bonuses.
"Lifeboat is a joy to read; referencing a story we all know in comparison to life challenges we will all face. An instruction manual on how to take accountability for your own journey, while reminding leaders of their duty to enable a culture that empowers people the freedom to become their best selves. Be wary of Big Ship mentality, whatever size boat you get on! This is a book every up and coming executive should read, and one every CEO should have already read."
Eric Elliott
"'Life's a gift and I don't intend on wasting it.' This classic line from the movie Titanic, delivered by Leonardo DiCaprio as Jack Dawson, is followed by these words: 'You never know what hand you're gonna get dealt next. You learn to take life as it comes at you . . . to make each day count.' Lifeboat is a practical manual for making the most of the gift of life, whatever comes your way. Maggie Craddock poses eight critical questions that guide readers to think the unthinkable in order to become unsinkable."
Michael J. Gelb
"After decades of being a chief risk officer at major financial institutions, I was adept at dealing with crisis. But when I faced a personal situation that shook my world, suddenly the tools that had been effective navigating markets didn't work. I was lucky to have had the opportunity to work one-on-one with Maggie Craddock. Now her practical advice on how to deal with unexpected change is told in a book I couldn't put down. Using the story of a catastrophe the size of the Titanic, she gives us practical tools to master a transformative mindset in an unforgettable story!"
Lisa Polsky
"Lifeboat is an important read for anyone trying to make sense of the ever-changing world of work — and their part in it. As usual, Maggie Craddock manages to combine a powerful theoretical framework with a combination of storytelling and practical solutions. The outcome is a book you can't put down — and advice you can readily put to use."
Amanda Pullinger
"Maggie Craddock has a wonderful way of taking the complexities of life and simplifying the message. Life is about relationships, and the most important thing we can do for ourselves is to value, care for, respect, and empower others. 'Lifeboat values' means realizing that collaboration and teamwork aren't just words."
Brian Hull
"Maggie Craddock's Lifeboat Process for tapping into your authentic strengths when facing unexpected change is valuable for us all during turbulent times. She uses the Titanic metaphor beautifully to help us envision challenges we all face through the eyes of others, beat the odds, and thrive in our lives and careers." 
Dr. Doris Day
"Maggie Craddock is to careers what the Carpathia was to survivors of the Titanic disaster. In Lifeboat, she takes all the wisdom she's gleaned coaching hundreds of executives and puts it into a great self-help guide to saving one's professional and personal self. Whether you are just about to jump off the dock to begin your journey or have been afloat for years, Lifeboat offers an excellent process to ensure a successful trip."
Kenneth Moore
"Drawing on the purpose-driven and collective spirit of Titanic survivors, Maggie Craddock has composed a compelling playbook for life and career success — one that helps us navigate the turbulent future unfolding before us and that acknowledges: yes, we are indeed all in this together."
Keith Green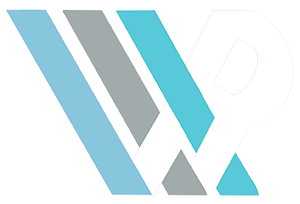 SENIOR EXECUTIVE DEVELOPMENT
Workplace Relationships, LLC
356 Long Ridge Lane, Exton, PA 19341
Phone: 610-241-2888